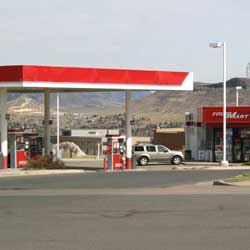 A Special Use Property (aka: Single-Purpose Property) is a property whose design, construction, and use precludes uses other than that for which it was built.
When underwriting commercial loans on these types of properties, it is most important to understand there is never a defined list of Special Use Properties. Instead the underwriter must be able to recognize the characteristics of the property, which make it Special Use.
For example:
The property is not easily converted, in terms of costs, to another use.

The zoning restricts the use.

The property and repayment could be affected by trends, operation, equipment or cash flow.
Some examples of Special Use Properties:
Residential Care Facilities

Gas Stations

Movie Theaters

Wineries

Self-Storage Facilities

Car Wash

Restaurants

Cold Storage

Gentlemen's Clubs
There are many risks involved which you need to understand before moving forward with a loan on these types of properties. Some risks include a limited market for resale, specialized building or equipment which limits use, and certain uses become obsolete over time, as with trends. In many cases, Special Use Properties may be worthless if they are not being operated.
Once you recognize that the property is Special Use, approach the valuation carefully. You need to find an expert in the area for that type of property with proven competency. Know what kind of value you are looking for - Real Estate Only or Going-Concern Value. Will the FF&E's have any value? You may need to research conversion costs.
It's important to know the operator of the property. Who is the key person? What is their experience? What education or specialization is necessary?
What is the history of the company? Have they always been in that location? Is there a history? Is it a good story or well-grounded?
Sometimes its important to know the supplies used, the raw materials, and the suppliers.
Anticipate disasters, such as a ski resort with a no-snow year, a vineyard with a drought, or E-Coli at a restaurant. Look at the company's track record. Do they have the cash reserves to survive?
What is your exit strategy? Have this in place. Your exit strategy should be different from your borrower's exit strategy. Is long term funding needed for the deal to work? Can it be short term?
To mitigate risk follow the Big 5:
Reduce the LTV

Take additional security

Obtain solid guarantees

Include good operating covenants

Don't make the loan
Here are some other important considerations:
Who will come to OUR rescue?

Is there a dumber lender?

Will the guarantors really make a difference?
When making a commercial loan on a Special Use Property, you should include loan covenants, such as operating ratios, "no dark" provisions, periodic inspections and reports. For example, if you have a storage facility request, you may want to obtain bi-annual reports of tenant names and information. On properties with septic tanks and wells, require periodic inspections.
And last, but arguably most important, what is the mortgage history of the borrower? Were his last two loans private money loans? Did he take cash out each time? What was his payment history? You have to look at it as the borrower is not operating well if he needs to keep getting private loans. Why? Is he not making money? Is he not good with his finances?