I have now heard it all. Yesterday I got a lead call on a medical marijuana farm in Colorado.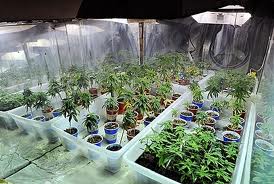 The buyer was prepared to put 25% down and was seeking a loan of 75% LTV to buy a former nursery in order to grow legal, medical marijuana.
So, did Blackburne & Sons, our hard money commercial mortgage company, make the loan?
Naw, but we seriously considered it. Remember, hard money lenders are portfolio lenders. Our loans do NOT have to fit into some little square box with pre-defined underwriting criteria. If a hard money lender thinks that a commercial loan is a good one, and if he can find a group of private investors to invest in the loan, he is free to do the deal.
Now a commercial loan against a medical marijuana farm would be a VERY expensive loan - anywhere from 14% and 5 points to 18% and 15 points. Most of those points would have to go to those private investors (high net worth individuals) who invested in the loan.
The investors would almost certainly require additional collateral as well. The loan would probably have blanketed the personal residence of the buyer, as well as at least one other investment property, like an apartment building. The personal guaranty of the borrower would, of course been required, and perhaps the personal guaranty of a wealthy, outside party would also have been required. The personal guarantor might even have been required to put up collateral for this guaranty.
But my point is that a commercial real estate loan, secured by special use property (odd-ball collateral), is definitely available from a hard money commercial lender, under the right circumstances.
Now Blackburne & Sons did not make the loan because the seller of the old nursery was asking $1 million for the former nursery, which was just 10 acres. The sales price simply made no sense; but we definitely considered the deal.
Who would have thunk it, huh?
Do you need a commercial real estate loan on an unusual business property that probably needs a hard money lender? Simply go to C-Loans.com and ask for a loan secured by a Special Use Property. C-Loans.com is a commercial mortgage portal to several hundred hard money lenders. C-Loans is also free!