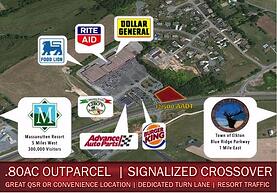 Finding a lender for a commercial loan secured only by land is pretty hard these days. Many commercial lenders are still sitting on huge portfolios of land upon which they foreclosed during the Great Recession.
There is one kind of land, however, that is infinity financeable.
Actually there are two types of land upon which it is fairly easy to obtain a commercial loan. The second type is farmland. Farmland is a hot commodity right now. Farmland in Indiana, for example, has tripled over the past seven years. My own commercial loan company, Blackburne & Sons, loves to finance corn farmland.
But the subject of today's lesson is commercial out-parcels or pad sites (same thing). An out-parcel is a small lot at the outer edge of a shopping center, usually reserved for later sale to a fast-food outlet or a chain restaurant; also called a pad site.
Usually there is a large shopping center on some busy commercial strip (thoroughfare). Further back from the strip is the grocery store or the Wal-Mart, and well as some inline retail units. Right on the actual strip, however, are several building pads that are ideal for a fast-food or a chain restaurant. Please look carefully at the picture above. The Advanced Auto Parts site and Burger King site are perfect examples of out-parcels.
Lenders love to make commercial loans on out-parcels or pad sites. While the typical loan-to-value ratio for most land loans is in the range of 25% to 40%, many commercial lenders will happily make purchase money commercial loans of 55% to 65% loan-to-value on out-parcels.
--------------------------------------------------------------------
We're now down to the final 38 weeks of the World Cup. This morning when France played Nigeria, it was the first time an American referee ever officiated a knockout round match. The French won it by a touchdown. -- Jimmy Kimmel
--------------------------------------------------------------------
The thing to be careful about when underwriting a commercial loan on a shopping center is NOT to apply the same outrageous price paid per square foot by a fast food chain for an out-parcel to the value of the land underneath the entire shopping center! No-no-no. The success of a fast food restaurant is very dependent on street visibility and easy street access. A fast food franchise owner might pay five times the price per square foot for the convenient out-parcel on the left compared to the difficult-to-reach out-parcel on the right.
--------------------------------------------------------------------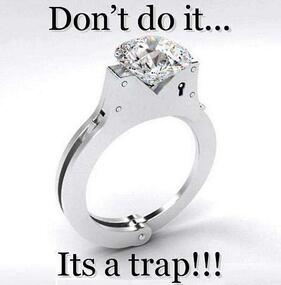 --------------------------------------------------------------------
I used another fancy term above - inline retail. Inline retail is another word for a store. The term inline came about as malls were developed in the 60's because the stores were literally all in a line in the mall.
Inline tenants are smaller tenants than anchor tenants. Inline tenants pay higher rental rates and sign shorter leases. These stores benefit from the foot traffic that anchor tenants bring to a retail center, and inline tenants account for the majority of the scheduled rents at most retail centers.
--------------------------------------------------------------------
There was a huge blowout at the World Cup yesterday when Germany beat Brazil 7-1 in the semifinals. It got so bad that the refs told Brazil, "You know what? Go ahead and use your hands." -- Jimmy Fallon
--------------------------------------------------------------------
Be on the look-out for an old, dog-eared business card of a banker that you know who makes commercial loans. You can trade the contents of that one business card for a free directory of 2,000 commercial real estate lenders.
Do you need commercial mortgage leads? Most lead sellers ask a small fortune per lead ($20 to $50 apiece), and they often post the same lead again and again. C-Loans.com sells commercial leads for just $1 to $9 apiece, plus 37.5 bps. if you close the deal. We have one former lead buyer who has closed 40 loans for us!
After 34 years of marketing for commercial loans, I have learned a few things - like what utterly fails and what works like turning on a spigot.
I am about to really tick you off, but its for your own good. If you don't invest a lousy $199 for my Practice Course, you are a flipping idiot. This five-hour audio course contains 67 separate lessons on how to fix your commercial mortgage business.
Now if you're netting $120,000+ per year (not gross but net) from your commercial mortgage business, maybe you could argue that you don't need this course. But the truth is that even you heavy-weights, you natural born salesmen, could learn a ton from a guy who has been in commercial real estate finance (CREF) for 34 years.
Now here's why you are a flipping idiot if you fail to buy this course - I guarantee that will double your net income as a commercial mortgage broker within 12 months - or I will refund 100% of your cost. I have never guaranteed any other training product.
You've been reading my blog articles. I hope you'll agree that my training is practical, do-able, down-to-earth kind of stuff. I am promising to double your net income as a commercial mortgage broker within 12 months. All for a lousy $199? Guys, this is far more about making you a loyal supplier of loans to Blackburne & Sons and C-Loans.com than making a lousy $199. If I turn your economic life around, in appreciation you will still be bringing business to my sons twenty years from now. Don't be a flipping idiot.