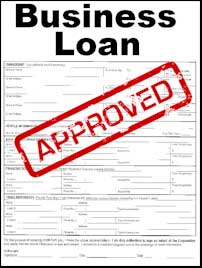 Today you are going to learn a ton today about business financing. By business financing, I mean commercial loans NOT secured by real estate.
As you know, I already own a very successful commercial mortgage portal named C-Loans.com. C-Loans has now closed over 1,000 commercial real estate loans totaling over $1 billion. But it wasn't easy to build this portal. It took us six, long, painful, heart-breaking years to reach profitability.
We are now in the process of building a business financing portal. Our plan is to use all of the lessons and much of the software that we used to build C-Loans to build a portal for business owners who need financing - accounts receivable financing, factoring, equipment leases, equipment financing, lines of credit, and about a dozen other forms of specialized business loans. We have purchased the wonderful domains, CommercialLoans.com and CommercialLoan.com, to use for this new venture.
Okay, so I interviewed today a good friend, named Scott Jordan, of All Credit Lending Solutions. Scott's business is almost the exact opposite of mine. While I make all of my dough in commercial real estate finance, Scott makes almost 100% of his dough in business finance.
I took careful notes during my interview with Scott, and today's blog post is largely a data dump of everything Scott taught me. I learned a ton, and I promise that so will you. This is not a primer on the entire subject of business financing. It's more a short collection of topics upon which he tutored me.
Business Lines of Credit:
Prior to the Great Recession, many commercial banks used to regularly make these loans - up to about $50,000 ($100,000). The size of the line of credit was often based on the amount of the company's monthly sales, and sometimes the line of credit was even unsecured.
Since the crash, the appetite of commercial banks for such loans has greatly diminished.
Collateral Based Loans:
Collateral based loans are when the lender takes physical possession of the asset and lends you some modest percentage of its value. There are lots of different names for collateral based loans - Pawn Loans, Car Title Loans, Asset Based Loans, and perhaps a layman would understand the term, Hard Goods Loans.
Examples of hard goods that could be serve as collateral for small commercial loans are car titles, truck titles, heavy equipment titles, boats, artwork, jewelry, gold, rings, and household goods worth at least $10,000.
Collateral based loans are very expensive, typically between 3% to 5% per month. They are intended only to be short-term loans.
There are even a number of online collateral based lenders, the largest being PawnGo.com. You send them the asset, they inspect it, and then they make you an offer.
Cash Advance Commercial Loans (Cash Advances):
Cash advance lenders are a newer breed of business lender that makes commercial loans to companies that make lots of regular daily sales. They will examine your company bank statements or merchant account statements, and then they will lend you a certain percentage (65%?) of your average monthly balance.
A merchant account is a type of bank account that allows businesses to accept payments by payment cards, typically debit or credit cards. A merchant account is an agreement made between the business/seller, the bank where the merchant account is held, and the payment processor to settle all transactions made by debit and credit cards. The fees associated with these accounts are usually in the following categories: monthly, discount rate and transaction. The rate that a business is charged for debit and credit card services provided by its merchant account is called a merchant discount rate.
The interesting thing about a cash advance commercial loan is that the commercial lender will suck out a small, regular, loan payment from your business account every business day!
Asset-Based Line of Credit (ABL Loan):
An ABL lender will secure his commercial loan, and base the size of his commercial loan, by the amount of your company's accounts receivables, plus a certain percentage of the value of your inventory (35%?), plus a certain percentage of the value of your fixed equipment (35%?).
An ABL loan is often better than factoring your receivables because you don't have to pay as large of a monthly discount if you are not using the money. You only pay interest when you have borrowed money on the line of credit.
ABL loans are not cheap. The very best borrower will pay at least Prime + 4%, and interest rates of Prime + 10% are far more common. Nevertheless, an ABL loan is cheaper than factoring, and you may be able to borrow more money.
Crowdfunding:
Crowdfunding is the collective effort of individuals, who network and pool their money, usually via the Internet, to support efforts initiated by other people or organizations. Crowdfunding is used in support of a wide variety of activities, including disaster relief, citizen journalism, support of artists by fans, political campaigns, startup company funding, motion picture promotion, free software development, inventions development, scientific research, and civic projects.
Crowdfunding can also refer to the funding of a company by selling small amounts of equity to many investors. This form of crowdfunding has recently received attention from policymakers in the United States, with direct mention in the JOBS Act - legislation that allows for a wider pool of small investors with fewer restrictions. (In my opinion, the JOBS Act is the single most beneficial piece of Federal legislation passed in the past 50 years. The positive effect on innovation and job creation in the U.S. is going to be huge.)
Peer-to-Peer Lending:
Peer-to-peer lending is the practice of lending money to unrelated individuals, or "peers", without going through a traditional financial intermediary such as a bank or other traditional financial institution. This lending takes place online on peer-to-peer lending companies' websites using various different lending platforms and credit checking tools.
Using various P2P lending websites - such as Prosper.com and LendingClub.com - wealthy, accredited, private investors are making personal loans directly to borrowers, with either a dozen or more individuals investing together in a single loan or with a single private investor making the entire loan. Typical loans are 9.9% to 13.9%, fully-amortized over a three to five year term.
So what's the difference between crowdfunding and peer-to-peer lending? Crowdfunding raises equity, while P2P lending creates debt.
Using Linked-In:
So I asked my buddy, Scott, where he got his leads. Do you get most of your business financing deals from brokers. "No," he replied, "brokers only account for about 25% of my business. Seventy-five percent of my business comes from business borrowers directly - word of mouth, my website, referrals, and Linked-In. Linked-In is huge for me."
So how do you get business from Linked-In? I don't personally participate on Linked-In, but Alicia Gandy in our Sacramento office - we call her The Loan Goddess because she is our biggest producer - gets a ton of business from Linked-In.
Scott replied, "I join lots of groups. Also, if I see someone with a successful business in the newspaper, I'll send him an invitation to link with me on Linked-In. Seventy-five percent of the people that I invite agree to link to me."
Great advice, Scott! Great lessons. Thank you.
Do you need a business loan not secured by real estate? Please call my buddy:
Scott Jordan
All Credit Lending Solutions
303-887-2570
sjordan@allcreditls.com
Important reminder:
Sooner or later you are going to be working on a conventional commercial first mortgage, and the bank is only going to be willing to lend up to 63% loan-to-value. Your borrower needs 75% loan-to-value financing. Our new Preferred Equity Loan program will solve your problem.