This article is intended only for commercial loan brokers. I have been marketing for commercial loans for over 33 years now, and one very successful technique that I use when marketing for commercial loans is to offer multiple products in every advertisement.
For example, I am designing this week a full page advertisement that will go out to about 100,000 commercial real estate brokers. Rather than just advertising for commercial loans in general, my new advertisement will offer four different products:
ONE POINT COMMERCIAL BRIDGE LOANS
No Prepayment Penalty
Call Tom Blackburne at 574-210-6686
TRYING TO BUY AN INVESTMENT PROPERTY WITH JUST 20% DOWN?
We Can Provide the Extra 10% To 15% Your Bank is Demanding
Call Angela Vannucci at 916-338-3232
EARN HUGE REFERRAL FEES IN YOUR SLEEP
We Once Paid a $21,250 Referral Fee
Simply Insert a Commercial Loans Hyperlink on Your Website
SUBMIT YOUR COMMERCIAL LOAN TO 750 DIFFERENT BANKS
C-Loans Has Closed 1,000+ Deals Totaling $1+ Billion
And C-Loans.com is Free!
It's going to cost me about $300 to reach all of these real estate brokers, so I might as well toss them four pitches at which to swing. Don't need a quick hard money bridge loan right now? Well, how would you like a $21,250 referral fee? Don't have a website? Well, does your investment property buyer have an insufficient downpayment? We can add to it. No? Need an "A" quality commercial loan? Why not use
C-Loans.com
to submit your deal to 750 different banks? After all, C-Loans is free.
My point is this: If you have to pay for advertising, why not give yourself multiple chances to make a sale? Always offer multiple products.
Have you ever seen one of my fax newsletters? The Blackburne & Brown Letter is mainly designed to plug my commercial hard money lending company. However, I alway also include a reminder about C-Loans.com, my commercial mortgage portal. In addition, I always plug my basic 9-hour basic commercial mortgage finance training course, as well as my hard money training course. Then I alternate plugging my commercial mortgage marketing course, my new course on the practice of commercial mortgage finance, or my program to buy commercial leads.
Just STOP for a moment. Have you ever looked at my wonderful courses and wished you could afford to buy them? You don't need cash. You can buy them with Blackburne Bucks. What is a Blackburne Buck? Every time you enter a bona fide commercial loan request into C-Loans.com and submit it to six lenders, we'll give you $100 Blackburne Bucks. You then redeem these Blackburne Bucks by buying my courses.
And these courses are wonderful! I be dyin' if I be lyin'. Every time I go to a major CREF trade show, at least three or four former students always come up to me and thank me profusely for this training. You've read my blog articles. I try hard to deliver solid, practical training in an easily understandable manner.
Okay, back to the subject of today's article. My training lesson again is this: Any time you have to pay for commercial loan advertising, be sure to offer multiple products.
"But George, I don't have training courses of my own to offer." I'll address this issue shortly; but first please allow me to show you one more example.
Have you ever seen one of my email newsletters? Please just scan the following two newsletters:
http://www.c-loans.com/mortgagestuff/mortgagestuff20131030.htm
http://www.c-loans.com/mortgagestuff/mortgagestuff20131024.html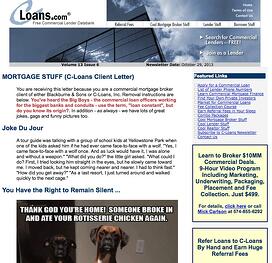 You will note that I plug Blackburne & Sons, C-Loans.com, buying commercial mortgage leads, my nine-hour training course, my new commercial mortgage marbketning course, my finding investors course, and several other products. Multiple products - get it?
Okay, now let's address your needs. You don't have multiple products. Yes, you do! You have that one bank which will lend up to 80% LTV on apartments. You have that other bank that will allow the seller to carry back a small second mortgage. You have that life insurance company that is offering loans at 4.125%. I'm making all of this stuff up, but you get the point. You have several dozen niche lenders. When you advertise for commercial loans, don't just say, "Commercial Loans". Instead, plug the programs of at least four niche lenders.