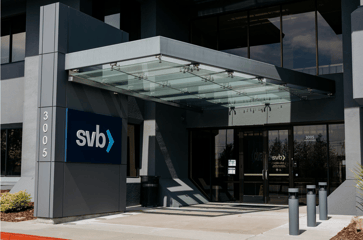 Joke Du Jour:
"Here is the situation," a teacher said. "A man is standing up in a boat in the middle of a river, fishing. He loses his balance, falls in, and begins splashing and yelling for help. His wife hears the commotion, knows he can't swim, and runs down to the bank. Why do you think she ran to the bank?" A girl raised her hand and asked, "To draw out all his savings?"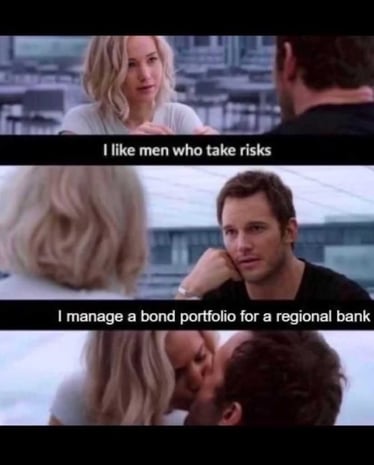 Well, Poop, This is Not What We Wanted:
We start from the basic observation that banks are terrible capitalists. Banks don't charge whatever interest rate the market will bear. Instead, they charge the exact same interest rate as the bank down the street and the exact same interest rate as the bank on the opposite coast. It seldom makes sense to shop banks on the basis of rate. They all charge pretty much the same thing.
The second observation about banks is that they are herd animals. Once one of them bolts for cover, so does the entire herd. You will seldom see a single gazelle on the Serengeti Desert standing his ground. As soon as the herd starts to move... poof... they are all gone.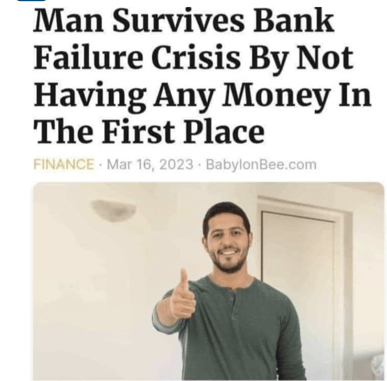 And right now, too many banks are in poor financial health. They accepted too many deposits, paying virtually no interest on these deposits. Flush with cash, they should have been making loans to small businesses. Instead, because of COVID, they bought long-term Treasuries.
Cute One:
A small boy badly wanted a baby brother, so his dad suggested he pray every night for one. The boy prayed earnestly, night after night, but his prayers seemingly weren't answered. After a few weeks, he didn't bother to ask anymore.

Some months later, his dad said they were going to see Mom in the hospital and he was going to get a big surprise. When they got to the room, the little boy saw his mother holding two babies. "Well, what do you think about having twin brothers?" his dad asked. The little boy thought for a moment and replied, "It's a good thing I stopped praying when I did."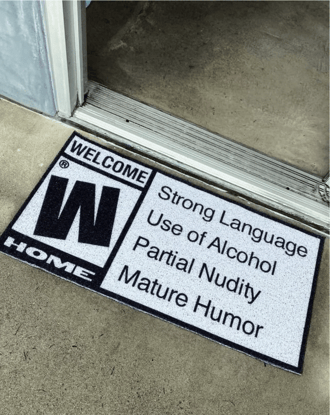 Well, Poop, Continued:
Oopsie. When interest rates skyrocketed, these long-term bonds plummeted in value. An example will make this clear:
Suppose a bank was paying only 0.25% interest on deposits, yet customers kept depositing even more money. Terrified of COVID, the bank "safely" bought a $1 million 30-year Treasury bond that was yielding just 1.5%.
Bam! Three years later, interest rates on 30-year Treasuries soar to 4.5%. Now the bank has a problem. That 30-year Treasury, with 27 years left to run, is now only worth around $600,000. If the bank was forced to market that Treasury bond to market, the bank would have to immediately recognize this $400,000 loss.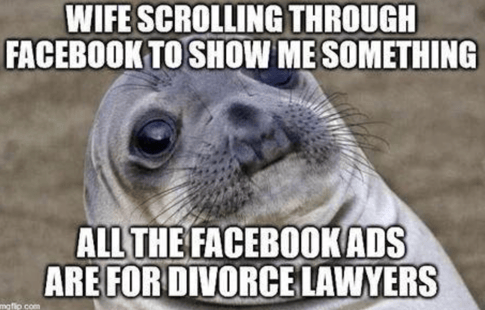 Betcha you wished you had started
servicing loans last year.
Mark-to-market means that the bank would have to show that security on its financial statement, not at its purchase price or book value, but rather at what that security is worth in the open market today.
A bank is required to maintain extra reserves if it wants to make highly-profitable commercial loans. The larger those reserves, the more juicy commercial loans that a bank can make.
But if the bank is forced to recognize a loss, the bank's reserves are reduced. In fancy banker language, their reserves are impaired.
Blackburne & Sons started this way... :-)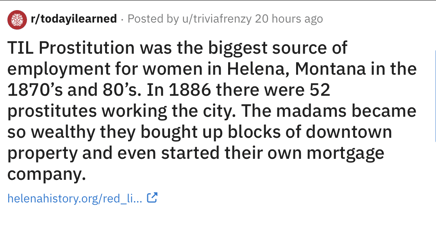 Why It Matters That Bank Reserves Are Being Impaired:
I have been writing to you optimistically about how American small businesses are bustling with energy and confidence. A mere four-percent increase in the cost of their business loans was not going to slow them down.
The stunning failure of Silicon Valley Bank, however, now has the entire herd in a panic. Loans to small businessmen may be starting to dry up. I could be wrong. I have no evidence of this drying up of credit. It just would make sense.
Well, poop! Just when the U.S. economy was poised to massively expand, circumstances collude to kick it back down.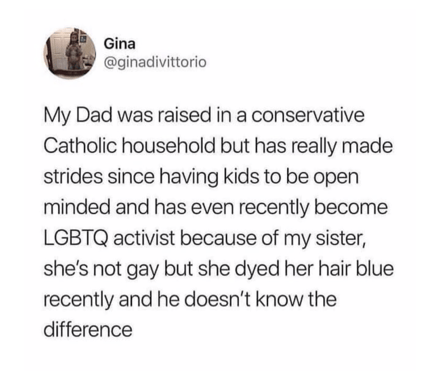 Finally Funny:
A golfer, now into his golden years, had a lifelong ambition to play one hole at Pebble Beach, California, the way the pros do it. The pros drive the ball out over the water, onto a green that is on a spit of land that juts out off the coast.

It was something he had tried hundreds of times without success. His ball always fell short, into the ocean. Because of this, he never used a new ball on this particular hole. He always picked out one that had a cut or a nick.

Recently he went to Pebble Beach to try again. When he came to the fateful hole, he teed up an old cut ball and said a silent prayer. Before he hit it however, a powerful voice from above said, "WAIT...REPLACE THAT OLD BALL WITH A BRAND-NEW BALL."

He complied, with some slight misgiving, despite the fact that the Lord seemed to be implying that He was going to let him finally achieve his lifelong ambition. As he stepped up to the tee once more, the voice came down again: "WAIT...STEP BACK... TAKE A PRACTICE SWING."

So he stepped back and took a practice swing. The voice boomed out again, "TAKE ANOTHER PRACTICE SWING." He did. Silence followed. Then the voice spoke out again: "PUT BACK THE OLD BALL."